Hiring: The 7 Habits of Highly Effective Internet Salespeople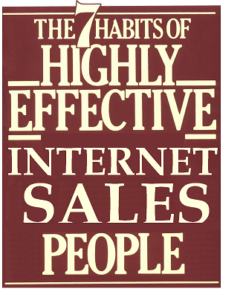 1) They get the online shoppers from leads and calls into the store with phone, email, AND text
; they answer the shoppers' questions but still build urgency and make appointments.
2) They are great on the phone and texting and depend on it for success; they know that email is best as merely a strong, personalized riff on a template and that it faces many hurdles (SPAM, attention, etc.) to just be seen by the shopper.  Even those shoppers who ask for contact don't often see it by email.
3) They are their own commercial:  They use things like short, personal video invitations and video walkarounds to establish connection and rapport with customers before they come in.
4) They understand that the store's reputation online is first seen by shoppers but first built by sold customers, and they work very hard to add positives to that online reputation from every customer they can.
5) They keep strongly to an effective, standard follow-up schedule—not just by email, but also more importantly by phone and text.
6) They aren't shift workers. They are available for a quick few minutes of phone/text/email with customers whenever they can, not just "open" hours.
7) They are great salespeople in person! We don't have to explain this one. 🙂
We tried to keep it simple, and many props to Mr. Covey for the years of great reads and education–and for the riff on his title that we made here.
Have a great rest of the month!
The BullCutter®
Call us! 281-401-9520 call/text
Contact Us HERE
eMail The Bull
www.BullCutter.com